Thailand
National Day : December 5th
General Information
Official Name
Kingdom of Thailand
Short Form
Thailand (meaning Land of the Free), or Siam, the country's name used until the year 1949
Term of Citizenship
Thai
Capital
Bangkok (or Krung Thep, in Thai, which means City of Angel)
Geographical Location
Located in the heart of mainland Southeast Asia, Thailand is a country of mountains, hills, plains and a long coastline along the Gulf of Thailand (1,875 km) and the Andaman Sea (740 km), not including the coastlines of some 400 islands, most of them in the Andaman Sea. Its continental co-ordinates are latitudes 20° 28' N and 5° 36' S and longitudes 105° 38' E and 97° 22' W. To the north Thailand borders the Lao PDR and Myanmar; to the east the Lao PDR and Cambodia; to the south Malaysia; and to the west Myanmar. The country's land-based maximum north-south extent is approximately 1,600 km, and its maximum east-west extent measures approximately 870 km.
Area
The land area amounts to approximately 514,000 sq. km. The maritime economic zones cover 72,200 sq. km. in the Andaman Sea and 140,000 sq. km. in the Gulf of Thailand, totaling 212,200 sq. km
Population
Thailand is a multi-ethnic nation with a population of 65.1 million
Climate
Thailand's climate ranges from the sub-tropical to the tropical zones, with three distinct seasons: a hot and dry season from February to May, a monsoon season from June to October, and a cooler, dry season from November to January. Average seasonal temperatures vary between a low of 23.0 °C and a high of 32.2 °C
Language
Thai is the national and official language. It is a tonal language with different dialects. Its script was created in 1283 by King Ramkhamhaeng the Great of the Sukhothai Kingdom. Other languages spoken include Chinese and Malay. English, a compulsory subject of secondary school curricula, is widely spoken and understood throughout the country.
Currency
Thailand's currency unit is the Baht, which is divided into 100 satangs. Notes are in 20 baht (green), 50 baht (blue), 100 baht (red), 500 baht (purple), and 1,000 baht (brown) denominations. The exchange rates against the USD averaged out at 32.64 baht to 1 USD (June 2015). Coins are valued at 25 and 50 satangs (brass-colored), 1 baht (nickel), 2 baht (brass/nickel), 5 baht (nickel with copper rim), and 10 baht (nickel with a brass center).
National Flag
Five horizontal bands of red, white and blue represent unity of the nation, purity of religion, and the monarchy, respectively.
Religion
The majority of Thais (over 90 per cent) are Buddhists, although other major religions are practiced. These include Christianity, Hinduism, Islam, and Sikhism. The Constitution makes no mention of any religion or sect as a national religion and grants complete freedom of worship for all Thai citizens.
Form of Government
Thailand is a parliamentary (bi-cameral) democracy with a constitutional monarchy.
National symbols
The Sala Thai (Thai Pavilion) is the country's architectural symbol reflecting the skill of Thai craftsmen. Chang Thai (Thai elephant or Elephas maximus indicus) is a symbol historically and traditionally associated with Thailand. The national plant is the Rachaphruek (Cassia fistula Linn), known as the Piper Tree or Indian Laburnum in English.
Politics
Thailand is a parliamentary democracy with a constitutional monarchy. After the country went through a peaceful transformation in 1932, sovereign power came to belong to the Thai people, with the King as the Head of State who is above partisan politics and discharges his role in accordance with the country's Constitution. The administration of the country is carried out by the prime minister – elected through an open vote by members of the House of Representatives – and the cabinet that the prime minister forms. The Kingdom has a bi-cameral legislature and an independent judiciary. Despite periods of political turbulence, Thailand's political history reflects the country's unwavering commitment toward becoming a full-fledged, multi-party democracy, with accountability, transparency, good governance, as well as respect for human rights and the rule of law being among its main guiding principles. The Thai people and civil society organizations are increasingly taking part in political activities, enjoying the rights and freedoms guaranteed by the Constitution. With the resiliency and fundamental strengths of the Thai society, the country has been able to continue its stride along the path of development, guided by the traditional Thai traits of tolerance, common sense and preference for peaceful solutions to problems. Over the past decades, there has been a remarkable continuity in policy direction, providing a predictable framework for investors and businessmen. Successive Thai governments have always been committed to certain fundamental policy principles: friendly relations with all its neighbors and a responsible and constructive foreign policy, an open-market economy, hospitality toward foreign investors and tourists, sound macro-economic policies with fiscal and monetary prudence and the improvement of the country's infrastructure to increase competitiveness and achieve sustainable development. These policies are underpinned, among others, by the vibrant private sector and the strength and continuity of the civil service of the nation, which oversees the implementation of policies and execution of laws throughout the country.
Economy
Thailand is Southeast Asia's second largest economy with a gross domestic product (GDP) of around USD 300 billion. With a free-market economy, the Kingdom has a strong domestic market and a growing middle class, with the private sector being the main engine of growth. The Thai economy is well integrated into the global marketplace, with exports accounting for over 70 percent of the Kingdom's GDP. Thailand also has a strong industrial sector (40 percent of GDP) and a robust and growing services sector (50 percent of GDP) centered on the tourism and financial services industries. Though traditionally an agrarian society and historically one of the world's few net food exporters, the agricultural sector today accounts for approximately 9 percent of the country's GDP. Given the importance of exports to Thailand, it has been a leader in the region in terms of trade liberalization and facilitation with the rest of the world, starting with its Asian neighbors. Thailand is a key player in the Association of Southeast Asian Nations (ASEAN), enjoying a strategic location that provides easy access to a larger market of nearly 600 million people, which is expected to gain even more strength when the ASEAN vision of One Community materializes in 2015, making it a community of connectivity, a single market and production base. Furthermore, Thailand's convenient access to China and India, as well as to other East Asian countries such as Japan and the Republic of Korea, takes this huge consumer market to even bigger proportions. In addition, Thailand's friendly relations and expanding networks of free trade agreements with other countries have further opened up trade access to markets both within and outside the region. These, coupled with the Kingdom's strategic positioning, have made the country a regional center for international travel and trade, as well as a hub for various industries, of which the most notable are the automotive industry and agro-industries. With a favorable investment climate, an entrepreneurial spirit and an open society, Thailand has been chosen by many businesses, media firms, as well as international organizations and non-governmental organizations
Investment
The year 2014 was a record-breaking year for the Board of Investment of Thailand (BOI) in the past 50 years, with an approximate value of 62.77 billion USD (2.14 trillion baht) and over 3,000 applications for investment. In 2015, Thailand continues to place great importance on fostering a business and investment climate that is conducive to trade and investment, while enhancing our country's competitiveness. For instance, the "Seven Year Investment Strategy," spanning from 2015-2021, emphasizes promoting investment that creates value for Thailand and also has a positive impact socially and environmentally. Investors can find a wide array of business opportunities in Thailand, especially with the BOI's new incentives under this new strategy. Thailand's current investment plan aims to promote investment both domestically and internationally, as well as to increase national competitiveness in order to achieve long-run sustainable growth. It is tailored to incentivize investments in knowledge-based industries, R&D, high-technology industries and projects that will strengthen the country's industrial foundation. Apart from foreign direct investment, Thai overseas investment has been highly encouraged through Thailand Overseas Investment Center (TOI), established to assist Thai nationals investing abroad, allowing the country to increase its competitiveness as well as promote Thai brand products in the global market.
Main Exports
Thailand's main exports comprise manufacturing products (74%), agricultural products (13%), agro-industrial products (8%), and mining and others (5%). Major manufacturing products are automobiles and automotive parts, computers and components, jewelry, rubber products, plastic pellets, and chemical products. As for agricultural products, major export items are natural rubber, rice, tapioca products, processed chicken, frozen seafood products, and chilled fruits and vegetables. Agro-industrial products include sugar and canned and processed food.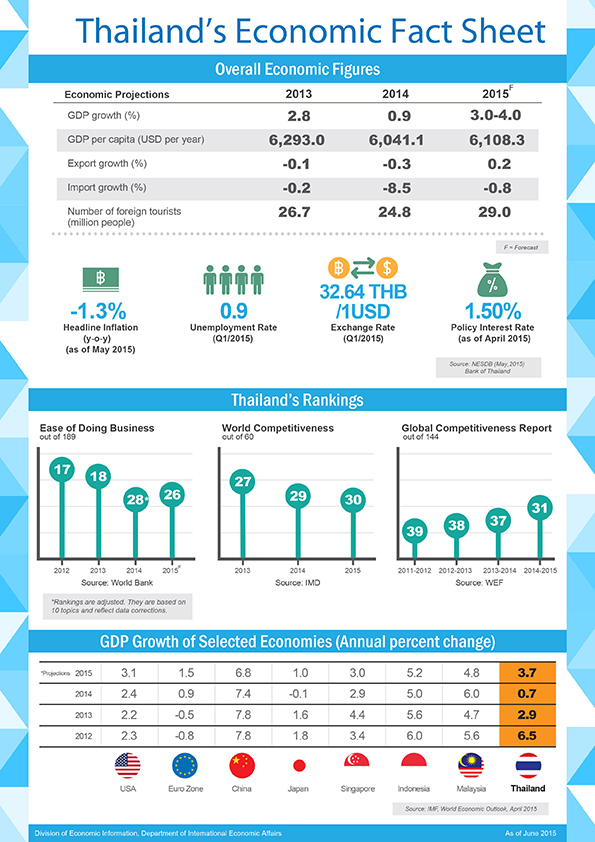 Kingdom of Thailand

Head of State

His Majesty King Bhumibol Adulyadej

Head of Government

H.E. General Prayut Chan-o-cha (Ret.), Prime Minister of the Kingdom of Thailand

Minister of Foreign Affairs

H.E. Mr. Don Pramudwinai

Contact of ACD Mission

Department of International Economic Affairs, Division of Economic Relations and Cooperation, Ministry of Foreign Affairs of Thailand

Email

Tel : (66) 2 203 5000
Fax : (66) 2 6423 5240